About Stone Edge Landscapes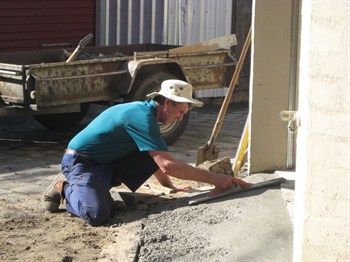 Stone Edge Landscapes has been operating for more than 12 years.
Our dedicated workers have up to 30-40 years' experience in the industry. We cover a broad spectrum of domestic and commercial services in both Melbourne and country areas. We are centrally located in Melbourne in the Kew / Hawthorn area.
Our unique portfolio of unusual focal points i.e. trompe l'oeil sets Stone Edge Landscapes apart from other landscapers. We use our expertise in selecting an appropriate position in your garden, and then it's over to one of our creative artists to finish off your Trompe l'oeil / focal point.
Our designers and construction team have a genuine eye for detail and a commitment to quality. Our team will work with you as both designers and consultants, keeping you informed and updated every step of the way. You can count on our team to create designs that both beautify your outdoor space as well as utilise it for your living or entertaining purposes. We have experience in a wide range of projects and spaces, and are open to every project, whether it be a small residential area or a large luxurious estate.
We offer a complete landscaping service, and will be there to design, create, build, and maintain your outdoor space. Our services include an initial briefing, a design consultation, a quote arrangement, and a second consultation, finally presenting you with our complete plan presentation. At that point we can make the necessary changes to ensure your satisfaction. Our construction team include services such as paving, pergolas, retaining walls, driveways, ponds, and gabion walls.
At Stone Edge Landscapes we make it our mission to create innovative and unique designs to reflect each space and each customer. We are always open to new ideas and enjoy working with you to create a landscape even more impressive than the original concept. Our extensive portfolio ensures that we can create a garden or outdoor area that is unique to you and your space, using a variety of different architectural styles and personal design concepts.
 We also specialise in stone work, garden maintenance, traditional and modern landscaping. We are members of Landscaping Victoria.