Natural Stone Work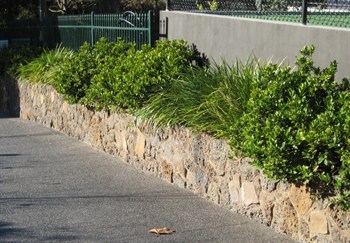 Our team of tradesmen are true experts when it comes to stone work. We have extensive experience when it comes to both commercial and residential landscaping, and projects throughout Melbourne and the surrounding suburbs. We have several projects constructed from locally sourced stone including Castlemaine rock, Coldstream rock, Bluestone and Granite. We also supply and lay imported stone from India, China and Italy. Natural stone work is a beautiful feature to every garden, whether it is natural bluestone or sandstone paving, or a stone clad feature wall. All of our stones and stone work are of high quality and affordable. Bluestone has recently become very popular not only in the suburbs of Melbourne but even in the inner city as well. It has been a favourite building material since the early days of Melbourne, and has been used in many of the city's historical buildings. It has also been widely used in the the roads and streets around Melbourne, and still lines our street's gutters in many of Melbourne's older, leafier, suburbs. We also have sandstone pavers which can give your home a beautiful resort style finish.
Stone Walling
Our stone cladding and stone work is available in a wide range of colours and styles that are designed from both traditional and modern gardens and landscapes. Other than cladding and dry stone walling, we also do veneered stone walling and ashlar stone walling.
We also offer a variety of stone paving work, including natural stone work, crazy paving, cut stone paving, brick paving, and cement paving. Crazy paving is the ultimate unique alternative to regular garden paving, and is sure to make your garden stand out in a wonderfully memorable way. Crazy Paving is a mosaic of stone, most often slate or sandstone. Each individual tile is unique, and no two are the same, hence the term crazy paving. Some varieties will have patterns, circles, and fossils within individual pieces. All the tiles are similar in thickness, however, providing a smooth and level surface. Once the tiles are arranged they create a natural and mixed look, setting your outdoor space apart from any other. Slate is often recommended for crazy paving around pool areas, as a result of its salt and chemical resistance. There really is a stone work choice for each and every kind of look you are hoping to achieve.
Brick paving can be a fantastic choice for a creative colour and design. Their natural earthy tones ensure a lasting, and striking colour for a long time. They are perfect in any setting. We also do a variety of cement paving. Our stone work and stone paving is not limited to the services above – we encourage you to get in touch with us to discuss your upcoming project and how we can help you make your landscape the outdoor area you desire from the use of great stone work.