Unusual focal points / Trompe l'oeil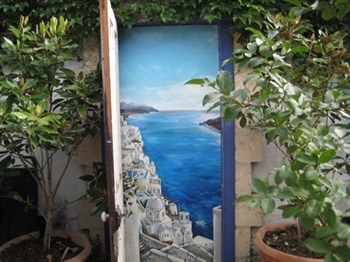 Where Art meets Garden Design
We work with you to create an original garden illusion that will be a real talking point for your outdoor space in your Melbourne home! We have access to many creative artists who will create your very own Trompe l'oeil / focal point.
The image on your right is an illusion of a doorway. When you open the door you see the artwork that transports your focus to a completely different part of the world. We use our expertise in selecting an appropriate position in your garden to create your Trompe l'oeil for maximum impact and enjoyment.
The Trompe l'oeil is translated from French to mean "to mislead the eye." It is a difficult and very demanding technique, as the artist is required to create a "window view" on a flat canvas or wall. Trompe l'oeil murals or paintings are usually created by highly talented artists with specific training in this area. During the Renaissance period, this style of painting was used to show perspective and realism. We like to think that still holds true today. The most important and steadfast rule of the Trompe l'oeil is that the object or landscape represented must appear to be in actual size. This is because when it is done well, the viewer is meant to have a hard time differentiating from what is real and what is painted. It is truly meant to be an optical illusion.
This is just one example of our many styles of a Trompe l'oeil. A Trompe l'oeil in your garden can have a great effect on your guests, for the sheer attention to detail and striking resemblance to a real landscape is enough to steal the show and become a constant topic of conversation. It can serve as the focal point of your garden, and you will forever be appreciative of the time and money you put into getting one. This will really enhance your landscape design by giving it the wow factor!
Your Trompe l'oeil can be designed, adjusted, and adapted to fit in perfectly with your outdoor garden design. The beauty of this design element is that it is 100% your creation, from the first stroke of the brush. You can choose the theme, colours, location, and will be given the opportunity of working one on one with our artist to ensure you are happy with your Trompe l'oeil. To bring the scene to life even further, a great idea is to surround the picture with plants that complement the photo or would be growing in the region that you have depicted in the picture.
The Trompe l'oeil is a fantastic way to make your garden stand out, and is a unique marriage of art and landscape design. It is also a great way for you to express your true tastes and styles and to ensure that your garden is a memorable one for everyone who visits.
Click here to see more.