As a homeowner, you may be debating whether you should hire a professional landscaper or if they should do your own landscaping. The reality is, while some outdoor tasks like gardening, painting and lawn maintenance can be taken care of easily and efficiently, DIY landscaping is not one of them. Landscaping mistakes can lead to much more difficult problems. Here are the detailed advantages of hiring a
professional landscape designer
.
They Can Provide You With Better Services
Professional landscapers have the experience to provide you with services that you wouldn't think of doing yourself. If you want to have a pergola and a pool, for example, a professional landscape designer will be able to shape your property to fit these features.
Not only this, but a professional landscape designer will be able to tell you whether the services you want are appropriate for your yard. If you're doing a DIY project, you may end up finding this out too late and you'll have a yard that cost you a lot of money with little reward.
They Can Save You Money in the Long Run
When you have a professional landscape designer, you can be sure that they know what they're doing. As such, room for error is reduced significantly and you won't have to pay for projects that go wrong.
In comparison, DIY projects can cost you more in the long run because whenever something goes wrong, you have to buy all the materials again and you have to pay for any repairs that are needed.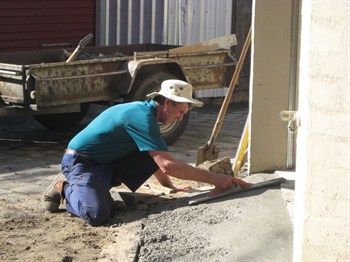 Higher Quality
Not only will you be provided with more advanced services, but you'll also have services of a much higher calibre. That's because a professional landscaping designer will likely have their own, quality tools and a wealth of experience. They can troubleshoot and solve potential issues on-the-go and will always be aware of what the updated materials, processes and safety concerns for landscaping are.
All-In-One Outdoor Design Service
One of the biggest benefits of using a professional landscape designer is that he or she will be your one-stop shop for all your landscaping work. When you perform your own projects, you'll have to hire a number of other people to carry out details that you can't.
When you hire a professional landscape designer, on the other hand, you can count on them to delegate when it's needed. You won't have to worry about creating a team; instead, you can hire an experienced and specialised team.
As your professional is in the industry already, they may even offer contacts and references to related services, if they do not provide them themselves. If, for example, you need a gardener to maintain your property, your landscape designer may have a gardener as a contact to refer you to. This way, you can also trust the professionals that are referred to you.
Conclusion
A professional landscape designer will provide you with better service, better quality will save you money, and will be a one-stop-shop for your entire project. When you use a professional landscape designer, you can trust that your project will be completed efficiently and effectively.
If you have any questions about landscape design and your yard, you can contact the team at Stone Edge Landscapes today. We are here to help you create your ideal outdoor spaces and are always happy to answer questions and discuss your design concerns.